Viscose Rayon is a man-made fiber made from many different materials, has a silk like sheen and has earned the name artificial silk or art silk. Rayon is a very versatile product. It can look like silk, wool, cotton, or linen and it blends well with other fibers. That is why it is known as the "sausage" of the fiber world!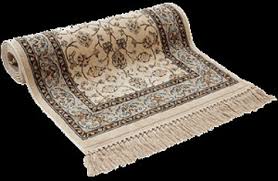 Truth be told, many customers come to our plant and are genuinely surprised to find out that their rugs are machine-made with a manufactured or man-made fiber. Some believe their rug is silk, others that it is handmade. This is because a lot of Viscose rayon rugs are labeled "Man Made Silk" and often confuse consumers with their bright colors and silk like feel.
Knowing what your rug is made of is important because Viscose rayon rugs are very delicate. Rayon
loses its strength when exposed to moisture and is known to color bleed. When cleaned with high temperature or incorrect chemicals, the fibers can disintegrate and ruin your rug.
Since the dyes used in viscose rayon can bleed and experience color change it is not wise to use a Viscose rug in high traffic and wet areas like front entries, kitchens, and hallways. Viscose rayon fibers turn yellow with moisture and light exposure. This means a simple spill of water on the rug will create what looks like a pet stain instead of just spilled water.
Although, Viscose rayon is a very easy rug to care for day to day if you do accidentally spill something on your rug, avoid scrubbing when you are cleaning. Instead, start with a damp towel and blot the area. If the spot is stubborn then use a soft hand brush and gently stroke in the direction of the pile while blotting every few strokes. Try not to go in a circular motion and do not drench with cleaners or water.
It is highly recommended to have your Viscose rayon rug cleaned by a professional like the ones at Bock's Steam Star!
At Bock's, we use a 14 step in-plant process to ensure a skilled cleaning the brings out the richness, color, and softness of your rug.
Here are our 14 step carpet cleaning steps:
Inspection for spots, stains or pre-existing damage
Identification of construction
Color testing to identify bleeders
Client briefing and documentation
Rug dusting/dry soil removal
Decide on cleaning method
Hand clean fringe
Apply post treatments
Speed Dry
Quality inspection & vacuum
Roll and Tie or wrap in colorfast craft paper
Store or deliver
Lay rug according to client preference
Replace pad and groom
The final result: Your area rugs will be cleaner, fluffier, fresher smelling and healthier than ever. From the finest silk Oriental rug to more durable synthetics, we handle them from all over the world.
Ready to have your rug cleaned? At Bock's Steam Star, we evaluate every rug that comes into our plant for fiber type. Just call our office at 913-438-7767 for more information or you may contact us here.
Bock's can pick up or deliver your rug. If you prefer to save on delivery fees, you can drop your rug(s) off at our rug plant at your convenience M-F 8:30-5pm.