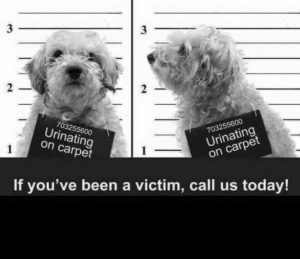 For many people, their pets are valued members of the family. Many of our clients tell us their pets are like children to them, a perspective we can personally appreciate! We all love our pets, but not necessarily the spots and stains they leave behind (everywhere they go), especially stains like urine or feces, gross, but most pet lovers have had to clean up after their pets at some point.
The unpleasant, lingering smell of dog or cat urine is enough to turn anyone's living room into a living nightmare! So, we're going to tell you the easiest way to remove pet stains from your carpet or rugs in Kansas City. When you get a stain like this the most important thing to do is to treat is as quickly as possible, before it absorbs further into the carpet.
Our biggest recommendation is to purchase a wet vac (it will be your best friend) at any local Kanas City hardware or department store for as little as $20.00 and extract some of the liquid from the carpet or rug before it absorbs into the carpet and padding. A wet vac pulls up the liquid opposed to pressing it into the carpet and pad. If the stain is dry, pour cold water over the area and use the wet vac to extract the water. Keep repeating these steps as many times as you need or until the stain and odor is gone.
Removing Pet Stains from Carpet and Rugs
Purchase a wet vac from your local hardware store or department store. Rubbing or blotting the stain with napkins or towels will only push the stain further into the carpet fibers and the padding. A wet vac (or otherwise known as a shop vac) is more powerful than your regular department store carpet shampooer and more cost efficient.
If the stain is dry run water over the area to flush out as much of the stain as possible. Don't be afraid to dump a few cups of water to really cover the area, let it soak in for a few minutes.
Use your trusty wet vac to extract excess water and pull up the stain. Work your way from the outside in, going in circles. You want to be working the worst part of the mess at the very end. Otherwise, you could end up spreading the stain outward.
Hint: If the stain is older, you may need to pretreat the stain with liquid enzyme. If you are opposed to using an enzyme you can always mix together baking soda and a 50/50 mix of vinegar and water to lift the stain for removal.
Repeat as many times as needed. After your first pass, you might have to repeat a time or two. Normally, three passes, using slightly less water each time does the trick.
The longer you wait the more damage will be done to your carpet or rug. So, act as fast as possible to remove the stain and clear the odor. If you can't remove the stain or the odor call a professional as soon as possible.
Bock's Steam Star has technicians who are specially trained to help remove pet stains and odors from carpets and rugs. Once our technicians identify where the stains are they can use one of our 3 systems to extract pet stains and odors from your carpet or rugs in Kansas City. Check out this website link for more information on pet odor removal
Call to schedule an appointment today at 913-438-7767 or click here now!
SaveSave