We welcome the opportunity to get to know more about you, what your goals are in life and see if we can be a good fit to meet those goals.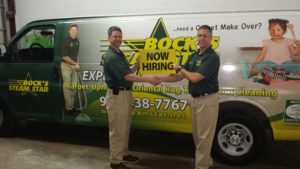 If your not experienced in our field that's OK. In fact we prefer it!! You see, I used to travel around the country teaching individuals at seminars to do what we do every day at Bock's Steam Star so there is nothing about this job we can't teach you if you're willing to learn. Let's spend some time at my office to have you fill out an application and then spend a few minutes getting to know you. We will share with you an overview of what we are all about. After that we can move forward or just be glad we had an opportunity to meet.
Why work for Bock's by the people who do it every day

A message from our founder and President Brian Bock
I once read somewhere that "we miss every opportunity we never take" so don't let this opportunity slip by to join one of the most respected, exciting, progressive service companies in the area. Make top industry pay and be appreciated for a job well done. We anxiously await your arrival!
God bless,
Brian R. Bock
President and
IICRC Master Textile Cleaner
CLICK HERE to download a Job Application
Hurry! Now accepting applications. Starting rate with no experience is $18 an hour and crew managers range between 60K and 70K per year. Paid vacations and retirement plan with company match.
Bock's Steam Star
6736 W. 153rd Street
Overland Park, KS 66223
Phone: 913.438.7767
Fax: 913.685.7495
---