Let's talk about something that all area rug-lovers will experience at some point or another: fringe. Whether you're a connoisseur of authentic woven rugs or you just bought one on the fly because it was too darn pretty to pass up, you likely will face the dreaded issue of cleaning the fringe on your rug.
What is rug fringe?
Believe it or not, many people do not realize that fringe is more than just a decorative afterthought on the rug. The fringe, on a hang-woven rug, is the backbone of the rug. Each strand that is knotted on the end of that rug actually runs from one end of the rug to the opposite side. In essence, the rug couldn't exist without it.
That makes it extremely important…and often a huge pain in the rear. If you own a hand-woven rug, you're probably all-too-familiar with fringe damage due to hungry vacuums and pets, as well as fringe filth due to, well…dirt. Unlike your favorite college sweatshirt with the holes in it, you can't just toss it in the wash and hope for the best. A hand-woven rug requires delicate care and attention sooner rather than later. But how?
That depends.
If you have a wool rug, you're in better luck, cleaning-wise. Wool hides dirt and discoloration much better than most other textiles. However, many rugs made today are of a cotton base, which is easily soiled and very difficult to keep clean. Nothing screams "don't let your baby crawl on my floor" quite like brown fringe that used to be white. Some people actually trim the fringe on their rugs with scissors. While a decent option in a pinch, you can't use that solution forever. Some like to keep their fringe clean by scrubbing by hand. The issue with cleaning your rug by hand is that is puts additional strain on the fibers from pulling and tugging at it in order to clean it. You may even notice some strands breaking off which is a clear sign that cleaning by hand may not be the best option. Keep in mind that if the fringe of a rug breaks low enough, it affects the structural integrity of the rug itself and it can start to come apart. We don't want that!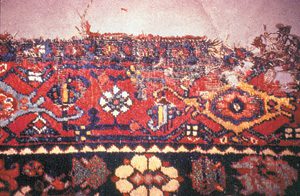 All in all, self-cleaning, in addition to being time-consuming, comes with its fair share of risk. This is where professional cleaning comes in. Professional cleaners have the training, tools and experience to safely and effectively clean your delicate and valuable rugs.
How do I know if I should use professional cleaning?
If your rug and fringe is extremely soiled, it is typically best not to tackle that cleaning yourself. Aside from the chemical damage that some experience by using the wrong types of cleaning solutions, the wear and tear could do more harm than good, leaving your rug in a worse condition than it was when you started.
When considering professional cleaning, it's important to consider the value of the rug to YOU:
Monetary – what was my financial investment?
Functionality – is it used for floor protection or decoration?
Construction – is it hand-woven or mass produced?
Condition – is it stained and worn or still pristine?
Age – if this was a high-priced rug, its value increases with age.
Fibers – are the fibers natural or synthetic? Natural fibers are predisposed to damage if not cleaned properly
Sentiment – does your rug have sentimental value to you or your family?
If you want help weighing your options and getting honest feedback about what is right for YOUR rug, contact Bock's Steam Star. We have professionals available to consult with you about your situation.
It is also the last few days of our Cleaning for Cans! Donate 10 cans to Harvester's and receive 20% off oriental rug cleaning or repair!
Until then!
Bock's Steam Star