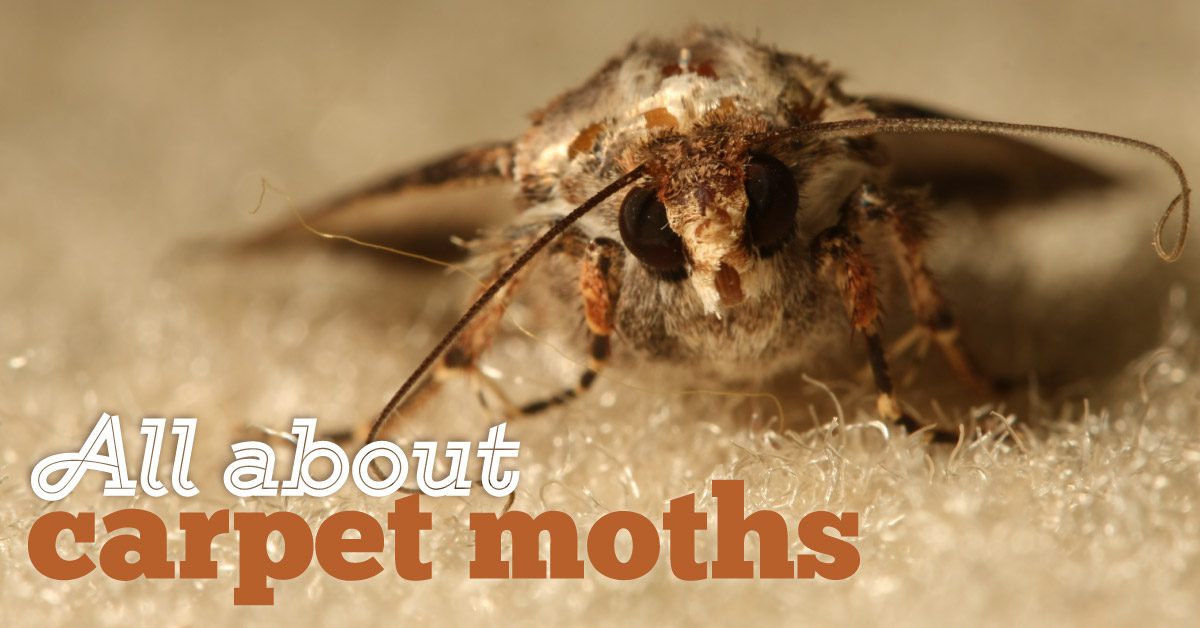 If you have never heard of a carpet moth, you are in luck – they have probably never invaded your home. They are tiny, incredibly destructive and hard to exterminate. They munch their way through wool carpets at impeccable speeds and render them bald. Their original habitat is outdoors, of course, where they live in bird's nests or on discarded fur or animal skins and are so tiny and dull they are almost impossible to see with the naked eye.
You're probably picturing those pesky winged creatures that dance around your light fixtures at night or chew holes in your clothing, but it's not the actual moth that does the damage but the larvae they produce that wreak havoc on your rugs. The two main culprits are called the "Webbing Moth" and the "Casemaking Moth" They love dirty, dark, undisturbed, and warm places to lay their eggs. So, when it is cold and dormant outside, they find comfort in your home's beautiful rugs. These pests attach their larvae tubes in crevices and seams, so they can feed on specific locations. Your woven rug is a tasty delicacy and a high protein buffet for these hunger pests. Beware, the Casemaking Moth is more dangerous than you think because it doesn't just dine in one location but roams around picking the perfect rug to dine on.
What should I look for?
Check your home frequently, these bugs like dark, undisturbed places to feast. They love to eat

under the sofa that is never moved or vacuumed. And most of the damage will be found underneath the rug on the back side. Start by looking for missing wool and black sand-like grit on the floor. Don't expect to see moths. Remember, you are looking for small white larvae that is really hard to see or bald spots on your rug.
What should I do?
First, remove the invested rug from your home. Check any other rugs and woolens for infestation. Don't forget to check under your furniture and the backside of carpets. After the rug is out of your home, contact a licensed pesticide operator to treat the rug prior to bringing it to Bock's Steam Star plant. Insecticides won't work either. They may kill moths and larvae, but they won't kill the eggs.
The reason we do not accept infested rugs is that we are not licensed to apply the pesticide used to "kill" the larvae. After the larvae have been killed a thorough dusting and submersion wash cleaning can be done safely by a Bock's Steam Star professional in Kansas City.
How do I deter or prevent moths?
As moths like quiet, dark places, the best deterrent is to vacuum on a regular basis and take the rug out and beat it to dislodge the dirt, dust and any other particles embedded in the fibers that act as an added attraction to Moths. Disturb their environment and they won't stick around long.
The best way to keep moths away is simple – have your carpets cleaned once a year or every other year by our professionals.. The Bock's Steam Star team in Kansas City will do a thorough job of cleaning your rug and removing all of the dirt and debris that attract pesky moths that use your rugs as a buffet! Not to mention, your area rugs will be cleaner, fluffier, fresher smelling and healthier than ever. From the finest silk Oriental rug to more durable synthetics, we handle them from all over the world.
Bock's Steam Star can pick up or deliver your rug. If you prefer to save on delivery fees, you can drop your rug(s) off at our rug plant at your convenience Monday – Friday 9:00-5:00 p.m.