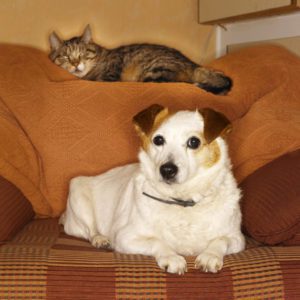 If you have a pet that has peed on your carpet in the past, we're sure you've noticed that dog urine smells worse in summer months. While most people think it has to do with summer heat, it actually has to do with humidity. It's the water in the air that draws the unpleasant odor out of the carpet.
When a dog pee's on the carpet, it may or may not smell right away. However, dog urine undergoes chemical changes and it leaves behind alkaline salts. As the salt draws humidity back into the urine deposit, it has to re-evaporate and it emits a smelly gas.
Additionally, as the pet urine stain decomposes, it puts off bacterial gas as well. Air currents pick it up and it can travel throughout the house making the entire home smell. And, the longer you let it go, the worse it becomes.
What's the solution? First, keeping your pets away from the spot so they don't continue to mark. Second, cleaning the carpet immediately so the offending spot doesn't have the time to go through all the chemical and biological changes.
If this is an isolated incident, you need to treat the carpet right away (especially since stains wet within 72 hours due to the natural dye that's in dog urine) . There are hundreds of products out there but few that really tackle the entire job. Enzymes work on the odor, but don't get the stains out. Oxidyzers bleach the carpet, but don't take care of the smell. Our pet spotter product does it all.
HomePro Pet Stain & Odor Remover is ready for the toughest pet challenges. No matter which 'end' of your pet the problem comes from – fresh or old stains – the synergistic effect of unique stain and odor fighting ingredients works like nothing now available in consumer products. We can tackle your dog urine problem