Brian Bock, an Industry Veteran & IICRC Master Textile Cleaner since 1994, gives a brief overview of their commercial carpet cleaning and other services offered at Bock's Steam Star.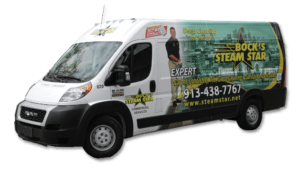 How Often Should Your Office Carpets & Furniture be Deep Cleaned?
According to the American Association of Dermatologists, the average human sheds roughly 300,000 skin cells a day and about 300 hairs. Much of that organic soil winds up on the furniture or carpet and unlike residential, commercial carpet and upholstery receives a lot more use. Each time a person sits some of that soil is rendered airborne. We can speculate that sensitive persons will experience lower productivity or even absenteeism which can increase the cost of doing business. It should be cleaned at least annually by a professional that knows about maximum soil removal. The increased use life and productivity savings should more than pay for the cost of cleaning. If you need your office in Kansas City deep cleaned, give Bocks Steam Star a call today!
Restorative Deep Cleaning with Steam Jet Extractor…..You Won't Believe What we can do with These! Watch Our Award Winning System in Action at this Greasy Restaurant.
Why High Performance Hot Water Extraction Matters?
The use of heat in the role of the removal and treatment of unwanted substances, including biological germs and viruses has been scientifically measured and demonstrated in studies sponsored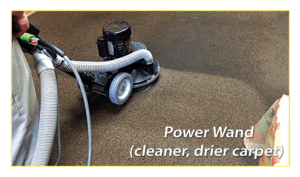 by divisions of the United States EPA, Air Quality Sciences, Airmid Health Group, and others between 1991 and 2014. Measured reductions in biological contaminants can be clearly demonstrated in carpets, textiles, upholstery, and hard surface floors after the use of high performance truck-mounted cleaning equipment that can maintain temperature across the surfaces being cleaned of 160 degrees + F.
We have some of the largest truck-mounted units designed to reach farther up into the building in order to hold these temperatures while the operators draw water during the extraction. Hence the term hot water extraction commonly referred to as "Steam Cleaning". Cheap portable units cannot achieve this or hold this temperature. This is a big advantage for Bock's Steam Star. For security or access reasons we also have high performance portables that produce heat. We can reach any floor if need be for all surfaces we clean. Many janitorial companies will claim to have portable extractors but do they produce heat? Are they high performance extractors? Do they recycle the water? Are the operators trained and certified by the IICRC? Our training allows us to compensate in other areas of soil suspension to still achieve effective cleaning even with some reduction of heat with a portable unit.
Deep Cleaning for ALL your Hard Flooring. The Cure for Stinky Bathrooms & Other Unhealthy Hard Floors!
Studies show that hard floors can harbor bacterial contaminants and have tracked fecal matter and other unwanted substances that your mop or scrubber can't remove. Getting your tile, terrazzo, polished concrete, or marble floor deep cleaned can help maintain a healthier environment and restore confidence.
Ceramic tile and terrazzo surfaces are just some of the additional hard floor surfaces that Bock's Steam Star can help you maintain. Our commercial accounts want and expect a company that is proficient at all its flooring surfaces. At Bock's Steam Star we are properly equipped, properly trained and have specialized employees to handle each of these surfaces on either a large or small scale. Whether you need a commercial face-lift or an on-going service contract you'll want to consider Bock's Steam Star. Put the power of an IICRC certified firm to work for you and see what a difference Bock's Steam Star can make.
Encapsulation Technology (ET) Can Take Your Business to a Whole Different Level:
Just another example of putting our customers first is the introduction of encapsulation cleaning. Encapsulation blends the better of two worlds; chemistry and physics. Encapsulation is a perfect choice for customers in high-traffic or large commercial settings with the need to clean their carpeted surfaces in an on-going manner. The results are nothing short of amazing and the costs are typically much lower than Hot Water Extraction.
How does encapsulation technology work? First we emulsify all the oil and physical contaminates within your carpeting, surround each molecule with an acrylic-polymer barrier that prevents it from reattaching itself to the fibers while drawing it to the surface using controlled evaporation. This immediately allows the carpet to return to its original orientation so that it looks its best, not just after cleaning, but between cleanings. Approved by all major carpet mills, encapsulation cleaning could be the perfect option for your commercial grade olefin, polyester or nylon surface. Give us a call if you would like to learn more about ET and you'll be amazed to find out that you didn't need to settle for the results you've been getting. There are better options.
HOS ORBOT Orbital Drive Technology:
Services
Bock's Steam Star
6736 W. 153rd Street
Overland Park, KS 66223
Phone: 913.438.7767