I just had my carpets cleaned by another company, and they seemed to get dirty faster?
Has this ever been your experience? Is it true?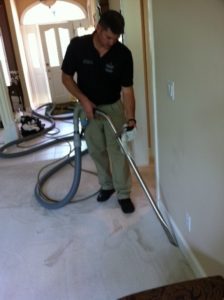 Sadly it can be true with uneducated, untrained and unprofessional carpet cleaners. The products, the methods and the technicians all play a part. However at Bock's Steam Star it's not true and here's why….
We can confidently guarantee this won't happen at Bock's Steam Star, Kansas City's premier specialist in restorative cleaning since 1994. As part of our mission to only bring the best in restorative cleaning to our clients it's important to stay at the cutting edge of the textile cleaning industry. Over the past several years advances in the soap free rinse technology has made Bock's Steam Stars award winning service even better! Our demineralized ,softened, carbonated, and soap free rinse leaves the carpet clean and soft.
With NO CHANCE OF "GETTING DIRTIERT FASTER". Actually we have been cleaning with these products for several years now and they have passed the test of time. The marketing is just now catching up in the cleaning industry so rest assured Bock's Steam Star is once again way ahead of the curve on this technology.
---
If you save a few bucks on that "GOOD DEAL" discount carpet cleaning company did you really save money?
Not if the cheap cleaning leaves a residue that attracts the soils and oils at a faster rate than had you done nothing. Now you have to clean it more often costing more. Many consumers are told to clean carpet every six months by the cleaners that leave the residue. Most homes a yearly cleaning is suggested by the carpet manufacture using Hot water extraction by an IICRC Certified firm and mandated every 18-24 months to maintain the warranty.
A good question to ask in a carpet cleaning is …Where is the rinse cycle? If sticky goo is left after a cleaning it also harms the fiber in the long run by attracting the abrasive soils and olis that cut into the carpet fiber causing micro scratches. In laymen's terms it "uglies out" sooner than it should. This explains why you can clean and clean and clean the carpet and it still looks dirty. You can give it the ole' white glove test and no soil is there. It's the absence of light refracting off the carpet because of the micro scratches and in the absence of color the human eye will see grey. Hence the term in the industry "Traffic lane grey". Soil and oil is the enemy to carpets so absolutely NO you don't save money if the carpet cleaning system leaves goo that attract all this stuff.
I wish I could repair micro scratches with cleaning, I'd be sitting on a beach somewhere but it's not possible. The only correction at that point is replacement. After 20 years of professional cleaning I have yet to see carpet worn all the way to the backing. It "uglies out"! So our approach is simple, pay a little more but clean once a year not every 6 months.
---
Here's more detail on how Bock's Steam Star keeps carpets, rugs and upholstery cleaner longer.
Bock's Steam Star's Amazing Carpet & Upholstery Cleaner represents the next generation in extraction cleaning and rinsing solutions. Bock's Rinse provides soap and detergent free, sudsless cleaning. Its non-toxic formula contains no volatile organic compounds and is odor free at use dilution, and is formulated to be free-rising from the carpet. It will leave no sticky soap or detergent residues that can contribute to rapid re-soiling of the carpet and spotting wickback. Bock's Steam Star's rinsing also uses the activating power of carbonation to assist in soil suspension and removal without the use of harsh solvents, bacterial enzymes, and potentially harmful bleaches.
Our soap free rinse will provide you with excellent cleaning results, even on the dirty and grimy carpets, yet it is still formulated to meet or exceed cleaning requirements for warranted stain resistant carpets and nylon, olefin, polyester, and Triexta carpeting.
---
Four ways to take Bock's steam Star to the cleaners: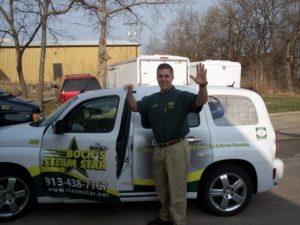 We are not trying to be, Barney's Bargain Basement Cleaning Company, but here are some of our programs. We offer these because who doesn't like a discount, right?
Volume discounts. Plan ahead and do more services at one time. Our biggest expense is labor, so drive time to your home or business is very costly. If you do more, there are discounts that apply. For instance, have carpets cleaned and do the tile or have us take the Oriental rug at the same time. You will save half the pick-up and delivery charge plus the discount on tile cleaning. If you would like, I can come out prior and give a budget quote on the services that you are interested in. That way, we maximize our time, and you save money.
Get on the email list. Mailing rates have forced us to cut back on mailing offers, so our primary way of keeping our clients informed is via email. I promise we won't send junk or sell the list, and currently, it's just once a month. We include a tip on maintaining the textiles and a great offer on one or more of our services. Simply Text the word BOCK to 22828, and you're done. You may also sign up on our website www.steamstar.net
Referral Reward Program. After each job, we will leave you new client discount cards to pass out to friends, family co-workers. Put your name in the space provided. If we get a new client, we will send you a referral reward certificate in the mail valued at 10% of the initial cleaning. You can save these up and use them all at your next cleaning. If you don't need the cleaning, mail it back to us, and we will cut you a check and mail it back. Please keep track of them because we don't once they are mailed out. Social media is a great way to earn more referrals, too, so go ahead and advertise for us. I'd rather pay our clients and friends than some advertising firm, and word of mouth is still the best form. Rest assured that we will take good care of your referral because we are a referral-based company.
Sign up for our Email List. We don't spam or sell your email, but it's the main way we keep in touch with our clients. It's only once a month and will have a cleaning tip and a monthly offer.
We always have a minimum cleaning charge regardless of offers, so just have more cleaned, then we can apply the discounts. We appreciate your business and look forward to serving you- Brian and Bryan.