It was around May of 2016, my husband and I decided to purchase our dream home! You see this is our first historic home a: 100-year-old farm house, it's old, charming, and full of history. We choose this home for its modern farmhouse exterior & interior feel and because there is nothing prettier than a white farmhouse. Although, it needed a lot of cleaning.
We started the cleaning process in the French style country kitchen with exposed beams, subway tile, cream mesh insert glass front cabinets, and to top it off an apron front farm sink. But the floor was tile instead of hardwood, ugg and the floor was so dirty the grout between the tiles were black. There was no way my husband and I were going to be able to get this off with a toothbrush! We really didn't know what to do so we asked our friend who referred Bock's Steam Star to help us with our dirty floor and grout problem!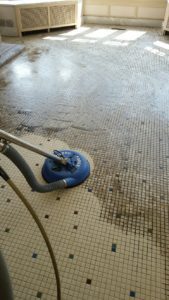 She told my husband and me that Bock's Steam Star used their tile cleaning system to power the dirt away on the floor in their home! Our main concern was whether they could get the grout white again? Bock's Steam Star advised us "Our system will remove ALL oils, grease, grime, and soil from your tile and grout. Even after the soils are removed, your grout may have some imperfections that cannot be taken out with cleaning especially if the grout is more than 10 years old. But don't worry, even if your grout is in bad shape, we can always dye the grout or re-grout," stated Brian, owner of Bock's Steam Star.
They told me to think about the cleaning system like this, it's like a self-contained power washing indoors with vacuum recovery but without the splash! Water pressure cleans the micro pockets of the grout better than brushes. Our system is hitting the floor with continuous clean water (unlike a mop that is just moving bacteria-laden soil from one grout channel to the other) our vacuum recovery then lifts the soils away leaving a clean healthy floor. It's the perfect blend of water pressure, heat, chemistry, and vacuum recovery all in one synergistic movement.
After hearing how they can clean grout and tile, I was curious how they go about cleaning hardwood floors in which Brian stated "Our intensive cleaning process doesn't just clean the surface of your hardwoods like most systems and products; it extracts hidden dirt deep within the boards of hardwood floors which improves indoor air quality, circulation, plus rejuvenates the hardwood floors. Our Bock's Floor Prep & Cleaning Machine and I.F.T (Intense Floor Treatment) aggressively attacks dirt and the solution is extracted quickly from the floor with squeegees leaving the floor dry and clean.
We decided to have all the hardwood and tile floors professionally cleaned in our new home. Bock's Steam Star s
howed up bright and early the date and time they were scheduled, they were quick, proficient, and helped add value to our home, by restoring the historical floors for our family to finally enjoy walking on. They were friendly and left us with a few tips to maintain clean grout, tile, and floors until our next maintenance appointment that they scheduled for next year.
5 Tips for Maintaining Clean Tile, Grout, and Floors
NEVER use acidic cleaners like muriatic acid to clean your floors. Even vinegar is an acidic cleaner you should avoid. This is ever more important if you have natural stone tile.
Instead of sweeping with a broom, use a vacuum sweeper for dry soil removal. This will keep soils out of your grout.
Mop your floors at LEAST once a week.
Use a neutral PH cleaning agent made specifically for tile or vinyl floors. Call us for specific recommendations.
Professional cleaning and sealing should be done ever 1-2 years to prolong the life and beauty of your floors.
Click here to see videos of our tile cleaning process.
Enjoy 50% off grout sealing and 25% off re-coloring. Click here and mention this blog post "Dirty Grout? Clean it out!
Refer us to a friend and get free cleaning! All you need to do is forward this blog to a friend, mention us on Facebook, or Tweet about us on Twitter and you can get FREE cleaning. For the entire amount, any new client spends on cleaning, we'll give you 10% toward a future cleaning. Just tell your friends to mention your name when booking an appointment.
And like always, we offer a 100% guarantee so your friend is sure to be happy!