The professional rug cleaner knows the damage moths can do to your woven treasures. More importantly they know how to prevent it in the first place. STOP! This is not a solicitation on moth infested rugs and we don't accept rugs with active larvae into our plant.  (More on why this is later)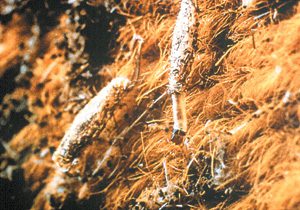 It's not actually the moths that do the damage but the larvae they produce. Moth larvae from the webbing moth and casemaking moth are the culprits. They love dirty, dark, undisturbed, and warm places to lay eggs that look like a silken tube. The casemaking larvae tube attach in crevices and seams so they can feed on a specific location. The construction of a woven rug with its high protein buffet of wool and silk is a perfect delicacy for these hungry youngsters. The casemaking moth is even more damaging because it doesn't dine in just one location but roams the whole buffet picking and choosing the most tasteful protein dishes. Evidently some colors and fibers are tastier than others, just as I love red sauced pizza but my son hates it! This can cause even more damage over a wider area of the rug. This grazing can go on for 2 months to 2 ½ years doing thousands of dollars of damage to silk and wool rugs.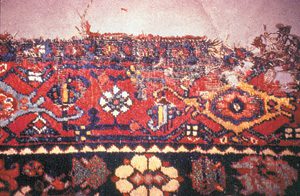 Prevention of moth damage to wool rugs: moths are attracted to the keratin in animal hair. Wool is animal hair! (Duh) A dirty rug covered in animal hair on the corner where the dog laysis a tempting meal for theses keratin loving creatures. This may also be a reason only certain areas are eaten. More keratin mo yummy! This may sound self-serving but keeping a rug clean of food sources for these critters is an obvious preventable measure.  Vacuum frequently and have a wool safe approved professional clean your rugs periodically. How often do rugs need cleaned? Every 1-3 years depending on use seems about right for most folks. If the pets have been naughty don't wait as this is a breeding ground for many problems in rug cleaning not just moth damage. The salts left behind from urine are alkaline and alkalinity will damage the dye fiber bond eventually. Then at the next cleaning colors are more prevalent to bleed not to mention the odor removal adds to the cost of cleaning significantly. The safest way to protect rugs from infestation is with an application of moth-repelling agents containing magnesium silicofluoride which are safe and last up to 3 years or your next cleaning. Moth balls, flakes, crystals which contain naphthalene or paradichloro-benzene are ineffective and are difficult to rid of the odors.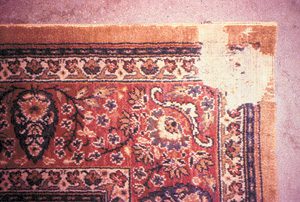 If you have live larvae infestations contact a licensed pesticide operator to treat prior to bringing to a rug plant. Most rug cleaners are NOT licensed to apply pesticides and could be breaking the law by applying products that "kill" anything. From my research a product containing pyrethrum should be used to kill the larvae. After the larvae have been kicked out of the buffet line (killed) a thorough dusting and submersion wash cleaning can be safely done.  www.steamstar.net