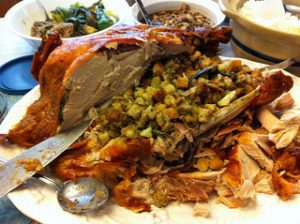 Thanksgiving is next week and if you're like us, you're wondering where all the time went. We've been incredibly busy at Bock's Steam Star cleaning Kansas City carpets for the holiday. And, we're sorry to say we can't get by your home for a last minute clean as we're all booked but we can give you some handy tips on how to get ready for the holiday.
Start cooking now- If you've planned your menu, this weekend is a great time to get a jump start on the cooking. You can bake your pie crust and place it in the freezer for a couple of days so it will stay fresh and gravy's easy to freeze too. Getting some of the side dishes out of the way will save you time next week.
Polish that silverware- If you've got company coming, now's the time to put a shine on that silver and wash all your table linens. Pull out all your serving dishes and make sure you have all the right sizes and colors. Don't forget to buy candles for the table and pick up a couple of bottles of wine.
Finish up on that holiday cleaning- By now, you've probably done all your deep cleaning and will just need to spot clean next week (if not, we know what you'll be doing all weekend). Block off the time to dust your shelves and mop the floors on Wednesday so your home's in tip-top shape for Thanksgiving Company.
If you think you might want your carpets cleaned for Christmas, give us a call right away to set an appointment. It's our busiest time of the year and we want to make sure to get you scheduled and give you the outstanding customer service you deserve. We hope everyone has a wonderful Thanksgiving next week with family and friends.